PMI seeks proposal for 2014 research funding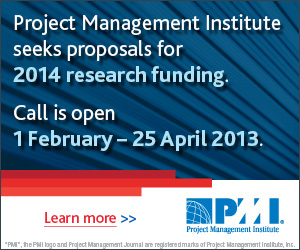 Each year, the PMI Academic Resources Department solicits proposals for research funding on any topic related to project, program or portfolio management. Awards up to US$50,000 are granted to selected recipients.
Proposed research must have direct application to some aspect of the project management body of knowledge or its practice.
The call for proposals for 2014 funding will be open until 25 April 2013.
Those advancing to the second round will be notified by 26 June. All grant recipients will be notified of awards by November, and funded projects will begin in January 2014.
Types of research and topics of interest
PMI encourages innovative research of two major types:
Translational research, which may include an evidence-based study of existing research or evidence-building research.
Unique, new theory-building research or the integration of existing theories that, together, form an interpretive framework for PPPM.
PMI does not accept submissions focused on software development, mathematical models with little or no direct application, or historical research.
Submit a Sponsored Research Proposal
Visit the PMI web site for application
Need help with project management terminology for your proposal? The new PMI Lexicon of Project Management Terms offers clear, concise and standardized definitions for the most frequently used project, program and portfolio management terms.