2013 Best Online Project Management Comparisons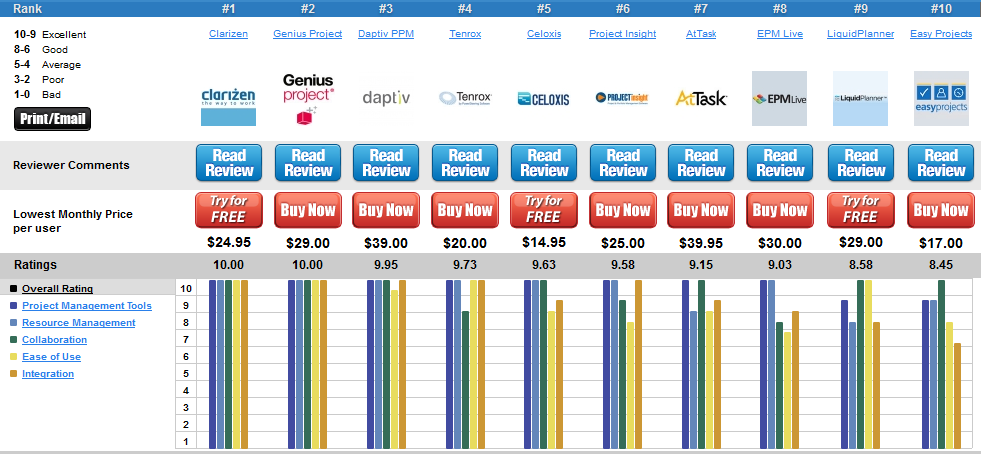 Once your company reaches its tipping point and can no longer efficiently manage projects with patch-worked solutions, it is time consider a capable project management solution. Some companies report as much as a 30 percent increase in production after they begin using a project management service.
These services provide project managers with powerful project portfolio management (PPM) tools, shareholders with real-time statuses and assist team members with efficient collaboration tools. The best online project management services work with your current technologies, such as Salesforce, Outlook, Microsoft Dynamics, Sharepoint, SAP ERM, CRM, Oracle and Netsuite, either out-of-the-box or via advanced programming interfaces (APIs).
These project management services provide a way for project managers to efficiently organize and manage complex projects from start to finish via request, resource, asset, budget, task and risk-management tools. The most capable solutions also provide tools for teams to communicate and ways for clients to view reports and statuses. Most services also provide a variety of hosting options, including online or on-premise, so that IT managers can choose how they want to deploy the software.
If you are looking for a software as a service (SaaS) solution with a high adoption rate, consider Clarizen. For a highly compatible solution that can be hosted online or on-premise, check out Genius Project. If you are searching for a professional yet powerful and flexible PPM solution, consider Daptiv PPM. For additional information about project management solutions, see the articles on project management software.